Quilt Gallery

Here is the beginning of a new feature here on our website that we hope you will enjoy. There will be new quilts added as time and good pictures allow.

Today I am once again doing my best to add more quilts from our shop to this page. I ask for your patience as I am able to download some pictures easily and others not so much. I understand it is operator error so hang in there.
This beautiful three dimensional quilt is one of many made by Nancy Lawing from right here in Spruce Pine, NC. Nancy has a real eye for color and this cubist quilt draws you in as you admire the beautiful use of color. Feel free to come to inquire about any of our quilts here at Fabrics In The Fray, they are all for sale and each is very unique. From the largest to the smallest.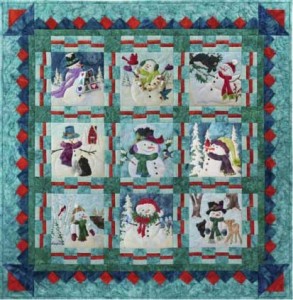 This one is a McKenna Ryan winter quilt with the cutest snowmen I have ever seen this was a BOM class we taught a couple of years back .